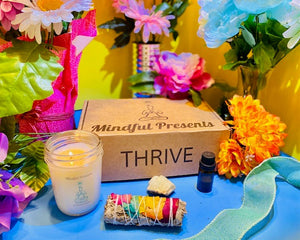 Celebrate National Yoga Awareness Month with Mindful Presents' end-of-summer sale
September is National Yoga Awareness month so take a beat (and a breath) with Mindful Presents as we ease into the school year and burst into the holiday season.
Save 10% off THRIVE Boxes when you use the code YOGA at checkout.
Save 50% off JOY Boxes when you use with the code HAPPY at checkout.
Buy one THRIVE Box and get a JOY or GRACE sage/candle bundle for half off when you use the code BREATHE at check out.
shop sale here